Keynote Address: Bob Iannucci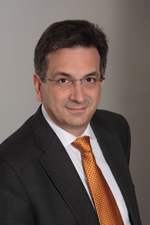 Dr. Bob Iannucci is a Senior Vice President and special technology advisor to Nokia Corporation. His previous role at Nokia was as Chief Technology Officer and Head of Nokia Research Center, Nokia's corporate research unit. Interacting closely with all Nokia business groups, Nokia Research Center is responsible for the strategic and long-term research in Nokia. Operating in seven countries, the center employs about 500 researchers.
Bob joined Nokia in 2004 as Head of Nokia Research Center's Computing Architectures Laboratory. He holds B.E. in Electrical Engineering from Youngstown State University, Ohio, USA; M.Sc. in Computer Engineering from Syracuse University, New York, USA; and Ph.D. in Electrical Engineering and Computer Science from the Massachusetts Institute of Technology, USA.
Bob has extensive experience in running both research and development activities in the fields of computing architectures, human-computer interaction, Internet, handheld computing, wireless technology strategy and networking systems. Previously, he held positions of Senior Vice President of Engineering at Cosine Communications, Vice President of Research at Compaq Computer Corporation, Vice President of Engineering and Co-Founder of Exa Corporation, as well as various research and development roles at IBM Corporation.
Bob is the author and co-author of two books and several academic papers. He is the holder of five patents.
February 23, 2009
7:30 – 8:30
Breakfast
8:30 – 10:00
Opening Session
Opening Remarks
Keynote
Bob Iannucci, (Nokia)
10:10 – 10:30
Break
10:30 – 12:00
Don't Track me Bro: Location and Privacy
Session Chair: Gaetano Borriello
We Saw Each Other on the Subway: Secure, Anonymous Proximity-Based Missed Connections


Justin Manweiler, Ryan Scudellari, Zachary Cancio and Landon Cox (Duke University)
Realtime Location Privacy Via Mobility Prediction: Creating Confusion at Crossroads


Joseph Meyerowitz and Romit Roy Choudhury (Duke University)
Enabling New Mobile Applications with Location Proofs


Stefan Saroiu and Alec Wolman (Microsoft Research)
12:00 – 13:00
Lunch
13:00 – 14:30
It's Made of People: Mobile Applications for People
Session Chair: Tim Sohn
LiveCompare: Grocery Bargain Hunting Through Participatory Sensing


Linda Deng and Landon Cox (Duke University)
BALANCE: Towards a Usable Pervasive Wellness Application with Accurate Activity Inference


Tamara Denning, Adrienne Andrew, Rohit Chaudhri, Carl Hartung, Jonathan Lester, Gaetano Borriello and Glen Duncan (University of Washington)
Sharing airtime with Shair avoids wasting time and money


Pan Hui, Richard Mortier, Kuang Xu, Jon Crowcroft and Victor O.K. Li (Deutsche Telekom Laboratories/TU-Berlin, University of Cambridge, University of Hong Kong)
14:30 – 15:00
Break
15:00 – 16:30
Breakout Session - The Future of Mobile Social Computing
Break up into groups.
Come back together at 16:00 for brief presentations.
What are compelling apps? How are they the same or different from existing online social networking sites?
What can research contribute here? What are core enabling technlogies? How should privacy be managed, if at all? What kinds of user studies or user models could help out understanding here?
16:30 – 17:30
Breakout Meeting (steering committee)
17:30 – 19:00
Reception
Posters and Demos
19:00 – 21:00
Banquet
February 24, 2009
7:30 – 8:30
Breakfast
8:30 – 10:00
Mixing things up: Cross-Layer Mobility
Session Chair: Marco Gruteser
The Case for Intentional Networking


Jason Flinn, T. J. Giuli, Brett Higgins, Brian Noble, Azarias Reda and David Watson (University of Michigan and Ford Motor Company)
A Case for Application Aware Channel Access in Wireless Networks


Ashish Sharma and Elizabeth Belding (UC Santa Barbara)
Exploiting "Approximate Communication" for Mobile Media Applications


Sayandeep Sen, Stephen Schmitt, Mason Donahue and Suman Banerjee (University of Wisconsin, Madison)
10:00 – 10:30
Break
10:30 – 12:00
Context-Aware Computing
Session Chair: Jeff Hightower
Context Aware Composition


Kent Lyons, Roy Want, David Munday, Jiasheng He, Shivani Sud, Barbara Rosario and Trevor Pering (Intel Research, UC Santa Cruz, and Georgia Institute of Technology)
Planning Ahead: Techniques for Simplifying Mobile Service Use


Mike Harding, Oliver Storz, Nigel Davies and Adrian Friday (Lancaster University)
Neary: Conversation field detection based on similarity of auditory situation


Toshiya Nakakura, Yasuyuki Sumi and Toyoaki Nishida (Kyoto University)
12:00 – 13:00
Lunch
13:00 – 14:30
Building and Testing Applications
Session Chair: Alex Varshavsky
Using Code Instrumentation to Enhance Testing on J2ME: a Lesson Learned with JInjector


Michele Sama and Julian Harty (Google)
Experimenting in Mobile Social Contexts Using JellyNets


Peter Gilbert, Eduardo Cuervo and Landon Cox (Duke University)
Ibis for Mobility: Solving Challenges of Mobile Computing Using Grid Techniques


Nicholas Palmer, Roelof Kemp, Thilo Kielmann and Henri Bal (Vrije Universiteit)
14:30 – 15:00
Break
15:00 – 17:00
Doctoral Consortium