Room sharing
If you want to organize room sharing with other attendees, please use the HotMobile'13 Facebook page. Post a message there to inform others that you are looking for people to share a room, or respond to others' requests.
Reservations
Reservation cut-off date:

January 28, 2013

The discounted hotel rate is $149 per night for single or double room, for the nights of 25 February – 28 February.
When booking please quote:

Association of Computing Machinery
---
Getting there
Travel update

Flying into BQK

If flying into BQK, there are no taxis that line up there. There are 3 options -- call the hotel at 912-635-2600 to arrange transportation, or call Affordable Taxi at 912-267-9998 to arrange a taxi, or rent a car.

Tolls

If driving, there is toll of $6 to get on the island. You only need to pay for every day that you enter the island regardless of how many days you stay on the island. So if you are only entering ones for the whole workshop, you only need to pay for 1 day of toll.
The nearest airport to the venue is the Brunswick Golden Isles Airport (BQK). Delta has several flights in/out of BQK daily. For those who do not want to fly Delta, the other option is Jacksonville International Airport (JAX). That is about 1 hour drive to the venue. There are several airlines that fly in/out of JAX and they have about 100 daily departures.
Shuttles
Airport shuttles from BQK or JAX airport can be arranged through the Hotel's transportation manager. Please, contact the hotel by email at: dhead@jekyllclub.com
Carpooling
If you want to organize to share a ride from the airport with other attendees, please use the HotMobile'13 Facebook page. Post a message there to inform others that you are looking for people to share a raid from the airport, or respond to others' requests.
View
HotMobile 2013
in a larger map
Student Travel
Deadline extended: Jan 10th, 2013
HotMobile 2013 is pleased to provide travel support to selected graduate students to broaden the participation in our workshop. Travel support will provide up to $700 per student to help cover the cost of the student's travel, lodging, meals, and workshop registration fees. We encourage the participation from women, underrepresented minorities, and persons with disabilities. Some of the applicants will be selected to play visible roles in the organization and running of ACM HotMobile 2013, including writing and publishing a workshop summary in ACM MC2R and/or registration desk duties. Travel support is made possible by a grant from SigMobile.
Applications for the travel award should be sent electronically as a PDF attachment to the HotMobile 2013 Travel Award Committee (hotmobile2013.travel@gmail.com) by (Dec 31st, 2012) Jan 10th, 2013. Please make sure that you receive an electronic confirmation of your submission. An application should consist of the student's CV, a letter from the student, and letter from the student's advisor.
The letter from the student should include:
A brief summary of research interests and accomplishments to date.
A description of areas reflected in the HoMobile 2013 program that would impact the student's research.
A note on how assuming any additional roles at HotMobile 2013 would impact the student.
In addition, the student's advisor should send a letter of recommendation to the committee. It should include:
Confirmation that the student is a Ph.D. candidate in good standing.
The suitability of HotMobile 2013 program to the student's research area.
Ways in which attending the workshop would benefit the particular student.
The strengths and potential contributions of the student.
The financial needs of the student in traveling to HotMobile 2013.
Applications will be reviewed by the HotMobile Travel Awards Committee, and the awards will be announced prior to the workshop. Alternates will be notified in the event that a recipient declines. Late registration fees will be waved for travel grant awardees.
Local Information
Jekyll Island
From jekyll-island.net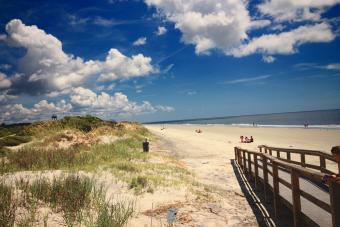 Life at your own pace, that is visiting Jekyll Island, a sea island off the coast of the United States. Located in Glynn County, Georgia, which is considered one of the Golden Isles of Georgia, named shortly Oglethorpe after General James Oglethorpe established Georgia as a colony in 1733.
Coastal Georgia was first visited by Spanish settlers who established missions all over the place, although Oglethorpe never had one. However, the mission close by at Saint Simons Island heavy influenced Jekyll Island, which received its name thereafter for the English settlement to honor General Oglethorpe's friend, Sir Joseph Jekyll.
Close by the Marshes of Glynn, immortalized by poet Sydney Lanier, and the city of Brunswick, Jekyll Island is a popular tourist destination where guided tours are available of the Landmark Historic District, an area comprising numerous buildings from the late 19th and early 20th centuries.
Although the Atlantic coastline of Georgia is just about 100 miles long, it is a region rich in traditions and breathtaking green landscapes, often referred to as a scenic vacation destination, which has lured domestic and international travelers for decades.
The Golden Isles run from the Florida border up to South Carolina, the frequent point of encounter between vacationers traveling by car and others aboard small ship cruise lines, where Jekyll Island distinguishes itself from the hard work to avoid overgrown and over development.
In addition, coastal Gullah traditions make this destination unique within the area. Gullah is often referred to as "Sea Island Creole", an ethnic language and group of African-Americans native to this Georgia's region, and brought over by West African slaves.
More information
http://jekyll-island.net/
http://www.jekyllclub.com/activities/
http://www.jekyllisland.com/