Hotel

The workshop will be held at the Monterey Marriott, directly on the Bay.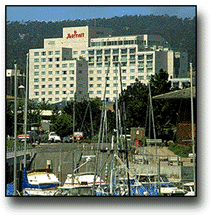 350 Calle Principal
Monterey, CA 93940 USA
Phone: 831-649-4234
Fax: 831-372-2968
Hotel Registration Information
The WMCSA Organizing Committee and the IEEE CS have negotiated a low group rate for a limited number of rooms with the Monterey Marriott. You can reserve a room at the Marriott at this rate for a stay of up to 3 days before and 3 days after the workshop.
The negotiated rate is $134.00 for a single/double room exclusive of any applicable sales/room taxes (currently 10%) and state tourism tax ($0.15 per room per night). You can reserve your room in one of the following ways:
Phone the Marriott at (831) 649-4234 and ask for the reservations department.
Fax a completed copy of the hotel's request form (for now, the hotel will FAX it to you if you request it via telephone or FAX; we are working to get a copy on-line) to the Marriott reservations department at (831) 372-2968.
You must reference "IEEE Computer Society WMCSA" when you make the reservation!
Reservations at this low group rate will close on October 23, 2000 at 5:00 PM PST. So please reserve early!
Note: Workshop registration is a separate process!